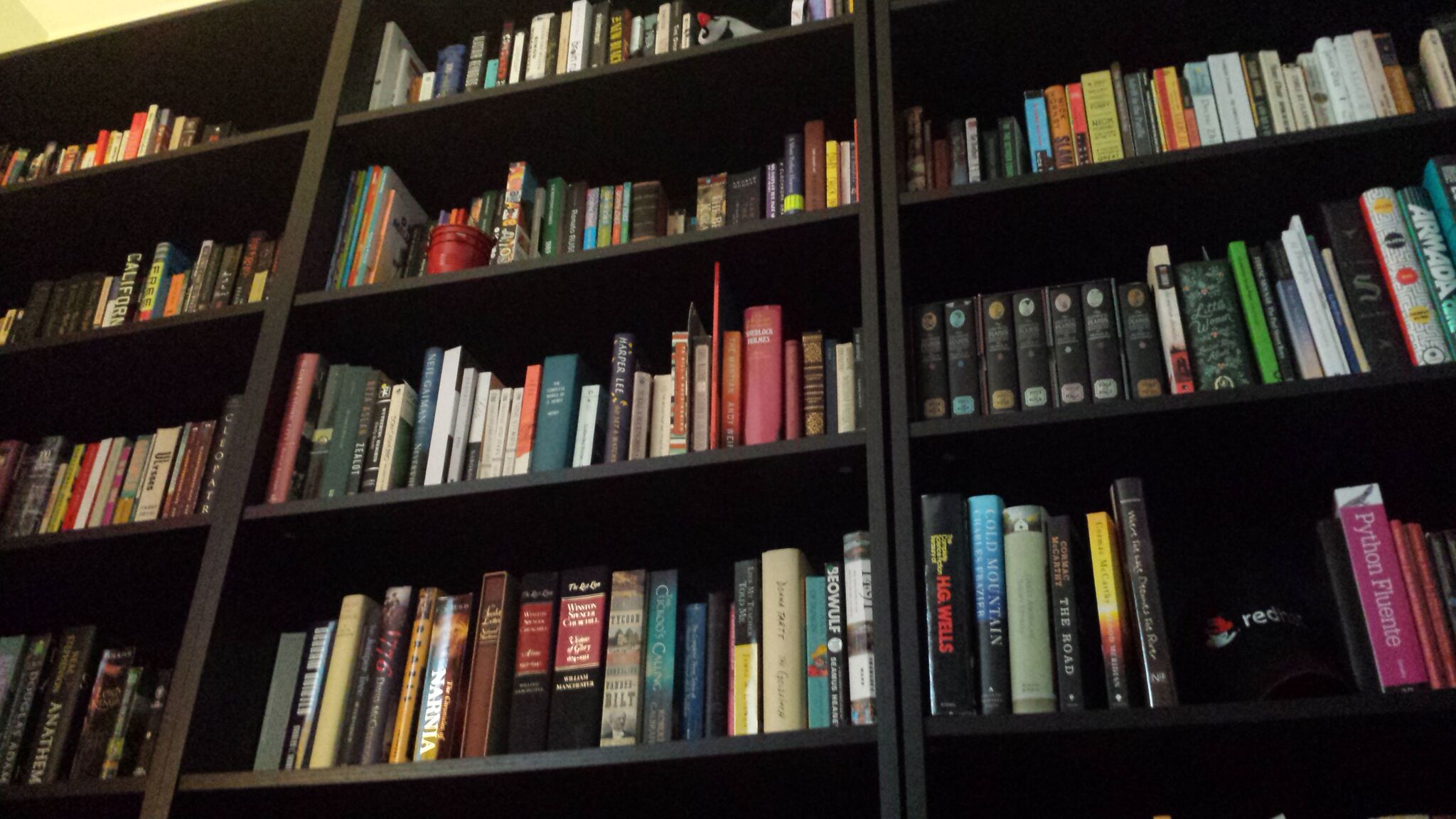 Another year has gone by and I guess it is time to review the things I set out to do and grade myself on how well (or poorly) I fared. Here are some of my goals for 2015:
Read 70 Books
Grade: PASS
Even though I had a very, very busy year at work, with many releases of Red Hat Satellite 5 and Red Hat Satellite 6 shipped to our customers, I managed to surpass my goal of reading 70 books, finishing the year with a whopping 79 books read! You can see the books I read here: Year in Books
This year I also spent a good chunk of my time looking at old, used books, and my personal book collection increased considerably. At one point I had so many piles of books lying around the house that I had to buy 4 new book cases to store them. At first I wanted to have them custom made, but the estimates I got from 3-4 different people were way out of my budget. In the end I went with 4 Billy Bookcases from Ikea, which cost me about 10 times less!
If you want to see what I'm reading or want to recommend a book which you think I might enjoy reading, please feel free to add me on GoodReads.
Write a Book
Grade: FAIL
I utterly failed my attempt, or better yet, lack of attempt to write a book. I did have lots of ideas for some short stories, but it was only around July that I started writing them in my notebook. I have around 3-4 rough drafts put together and I hope that I can transcribe them from the notebook onto another media, perhaps this blog?
Travel Abroad
Grade: PASS
This year I had the opportunity of doing a bit of traveling, and I already have a couple of trips planned for the new year!
I also had an opportunity to visit my teammates in Pune, India, but decided that I had enough traveling for this year and postponed my trip for next year. :)
Become a Better Manager
Grade: In Progress
Since I officially became a manager (with about 24 people from 5 different timezones reporting directly to me) I realized that I had to make some changes to my day to day activities in order to be (or attempt to be) a good manager. Some of them were:
Delegate more: stop doing the day to day activities related to testing our products and/or related to automating functional tests, and focus on coaching folks to do them for me while I focused on other activities that required my attention and time. I must say, I still struggle with this, but only because I have a very hands on approach to work. Luckily for me, I have a great team and lots of support from my own manager, so I feel that I'm moving in the right direction.
Take classes: this year I took several classes provided by Red Hat that were geared toward helping me build strong professional relationships with my teammates and other folks across different teams. I also learned how to build "Win-Win contracts", create SMART goals and have Crucial Conversations. Even though most of the material covered in these classes were nothing new to me, it was nevertheless a great reminder and incentive to start using these techniques at work.
Incentive teammates to aim higher: throughout the entire year we were faced with many challenges, and I had the opportunity to work with many talented folks. It is such a great feeling coming to work and knowing that everyone around you is just as passionate (or more) about what they do as you are! There are times, however, when folks are not always at their best or some times get a bit lost and lose focus. As a manager I had the opportunity to lend a helping hand within my team and outside to some folks who needed a bit of encouragement and validation about their performance. I spend a huge chunk of 2015 talking to folks, in person or through video conference, listening to their issues and working with them on a plan of attack to help them turn things around. I remember very clearly the many times I struggled with a particular task or role at previous jobs, and how much I wished someone would only listen to me and help me through a rough patch, so I dedicate a lot of my time to being around and available to everyone around. Sometimes it can take several months to tilt the scale to the right direction, but when it happens, it is very gratifying to see the positive effect that it has on folks lives. This is probably the most gratifying thing about being a manager.
I'm truly excited about the new year that is about to begin and I have many plans to travel more and spend more time with family, friend and teammates! The year of 2015 was a blast and I hope you all have something to be grateful as well. See you all in 2016!!!